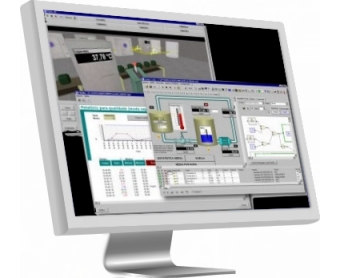 What is a SCADA system? SCADA is an acronym to supervisory control and data acquisition. It is a software used for data acquisition and process control through PLC and equipment in industrial automation .

LAquis SCADA software is a tool and language for data acquisition, process supervision, industrial automation, storing, reports generation and applications development. At the SCADA software set PLC tags (I/O points), equipment (modules, devices, PLC, ...), variables, databases, customizable properties, HMI visual interfaces, customizable reports until advanced processes through an SCADA software script programming language oriented to industrial automation. Communication PLC drivers can be developed in LAquis SCADA software itself with a system language oriented to driver development (ethernet or serial).

Also, it is possible to create drivers for equipment and PLC in the SCADA software through scripts programming, external DLLs or OPC. Some drivers are already included in the SCADA software for free such as MODBUS, Alnet, Advantech, DF1, Omron, etc...
3D LAquis SCADA software interface: transform 2D factory plan into a 3D OpenGL interface with HMI objects associated with PLC tags.
This software is used in industries: food, textile, metal, automotive, agronomy, energy, wood, inspection, hydraulic, chemical, paper, water treatment, etc...

SCADA software basics:
The main HMI SCADA screen at development programming mode is divided into two parts: the bottom where there is a spreadsheet with PLC tags and the top panel where visual HMI objects are placed. In runtime mode panels can be set to only HMI objects full screen. A full application can be developed with windows, panels, from HMI to reporting, with data acquistion and process control. Factory plants, screen panels navigation, web, etc... HMI objects can be created to specific cases.

SCADA software tags:
In the SCADA software spreadsheet PLC tags, IN and OUT points are defined. Properties like equipment, PLC, variables, files, formulas, scales, etc... are defined for each case. Theses tags can be stored in SCADA database continuously or through events. They can be associated to the HMI objects and reports.

SCADA software objects:
On the HMI panel, visual objects can be used in HMI SCADA software both for the development programming of specific HMI systems and also for simple accompaniment of a data acquisition. Each HMI object in SCADA software can be related to defined PLC tags in the tag sheet. It is possible to create and modify objects. Also drawing with vector objects can be used to specific cases. Each HMI object has properties and events that can be configured.

SCADA software scripts:
Scripts can be used in the SCADA software programming to create specific applications using HMI objects, PLC tags, databases and reporting. This script is a language for SCADA software development. Scripts can be executed inside events from HMI objects or process.

SCADA software database reports:
When setting a database in the SCADA software spreadsheet PLC tags, reports can be generated for quality management, analysis, and charts with stored data. These reports can be modified according to each case with a generic spreadsheet with cells, calculus and database listing. Scripts in reports can be used to specific applications to calculation and analysis.

SCADA software monitoring:
Monitor SCADA system information through network (WEB or directly via TCP). Exports visual HMI objects and panels and PLC tags data.


SCADA software procedure:
Set the PLC I/O points on the tags spreadsheet at the bottom of the SCADA software main screen. These tags can be generic or physical equipment variables. The SCADA software tags spreadsheet contains properties to define what will be read or written on the equipment. Some of the main properties are: Name, Title, Value, Unit, Driver / PLC, Database, Param1, Param2, etc .... Each property can be a column in this SCADA software tags spreadsheet. Choose the equipment driver to be used in SCADA software in the Driver / PLC column. The driver can be set in SCADA software by dragging the mouse pointer with the left button on the Driver / PLC column, or by clicking on the Driver / PLC column title to select all tags desired at the group. Data acquisition at SCADA tags can be recorded to a file (database). Click on the database column. The database can be set by dragging the mouse pointer with the left mouse button on the database column (like it was done with the driver), or by clicking on the title of the database column to select all SCADA software tags desired at the group. A visual objects panel is located on top of the main SCADA software screen. On this panel, HMI objects and visual controls are designed and can be used as the SCADA interface for the user. These HMI objects can be displays, pictures, animations, controls, etc... Specific SCADA applications can be developed through scripts. Scripts are sequences of instructions or programs used to customize the SCADA application's actions to meet the process. They are executed within the available events in the SCADA software.
Try the all-in-one SCADA software LAquis.
SCADA alternative LAquis software.